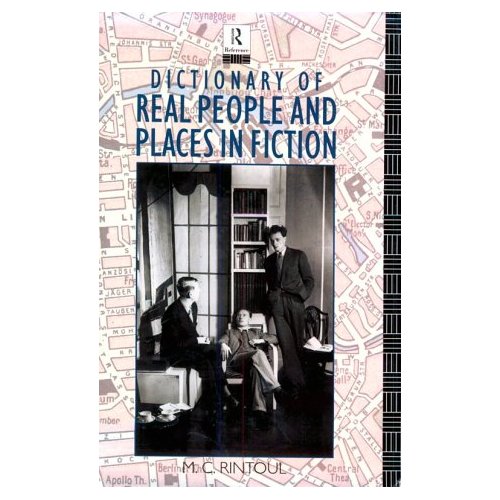 Dictionary of Real People and Places in Fiction
De M. C. Rintoul
Publié par Taylor & Francis, 1993
1184 pages



Fascinating and reliable, the Dictionary of Real People and Places in Fictionis an illuminating source for all students and teachers of literature, and for all those interested in uncovering the facts behind the fiction they read. In a single, scholarly volume, it provides intriguing insight into the influences upon over 300 authors by revealing the real identity of "fictional" people and places in American and British novels published in the nineteenth and twentieth centuries. Carefully and extensively researched by M.C. Rintoul, it contains several thousand identifications rooted in sound scholarship far removed from gossipy speculation. All the identifications are based on published statements in sources as varied as diaries, collected letters, journals, biographies and autobiographies, and newspapers. This valuable compilation of previously uncollected material makes the Dictionary of Real People and Places in Fictiona thorough and useful source. The dictionary is composed of three sections, each one alphabetically arranged and each one, in effect, acting as an index to the other two. In the first,Author Index, each author whose works are covered in the dictionary has an entry in which, work by work, the names of fictional characters and places and their real-life equivalents are given. A sampling of the authors included are Jane Austen, Saul Bellow, Lewis Carroll, Joseph Conrad, Charles Dickens, Elizabeth Gaskell, James Joyce, Rudyard Kipling, Gertrude Stein, and William Thackeray. In the second,Real Name Index, each fictional character and place is listed with its real-life equivalent and an excerpt from the substantiating source. Some examples of fictional characters listed in the dictionary include: Heathcliff in Wuthering Heights, Charlotte Bartlett inA Room with a View, Ursula Brangwen in The Rainbowand Lord Marchmain in Brideshead Revisited. In the third,Fictional Indexeach fictional name is given, with the author and work in which it appears and a cross-reference to the real-life person or place. The following are some of the real-life people paired with the novel they are fictionalized in: Ezra Pound inBid Me to Live, Vita Sackville-West inThe Flower Beneath theFoot, John Dos Passos inThe Sun Also Risesand Percy Bysshe Shelley inThe Aspern Papers. This book will be read and referred to by students and teachers of English literature, as well as literary biography enthusiasts.